The Whiskey Hibiscus Cocktail is the perfect transitional cocktail from Summer to Fall. Including some of my favorite ingredients such as whiskey, hibiscus tea, and honey for a cocktail that will excite your tastebuds! 
I partnered with Local Hive Honey™ to mix up this Whiskey Hibiscus Cocktail recipe! Recipe and ideas are my own.
Jump to Recipe
Why You Should Sip the Whiskey Hibiscus Cocktail
Elevate your happy hour with the Whiskey Hibiscus Cocktail. This cocktail recipe is a lot of fun to make and even more amazing to enjoy. It delivers a beautiful balance between floral flavors and bold ingredients for a mouth-watering mixed drink that includes only 5 ingredients!
And one of my favorite ingredients in this cocktail is Local Hive Honey™! This honey is 100% pure, raw, and unfiltered natural honey giving you the freshest flavors possible. You're going to want to get your hands on this honey and mix up the Whiskey Hibiscus Cocktail!
Ingredients for the Whiskey Hibiscus Cocktail
The Whiskey Hibiscus Cocktail calls for 5 ingredients that you most likely already have in your kitchen. I love keeping whiskey cocktails minimal so all the ingredients can really shine. See what I incorporated in this Whiskey Hibiscus Cocktail! 
Local Hive™ Colorado Honey: this delicious varietal is made with the freshest honey from Oregon. Boasting smooth, earthy notes for a medium-bodied finish. You can purchase your bottle here!
Hot water: a splash of hot water helps dissolve the honey to create the lightly sweetened base for your cocktail.
Whiskey: I used Bulleit Whiskey for this recipe but I also recommend trying this cocktail with Old Forester too.
Lemon juice: a squeeze of fresh lemon juice will balance out the sweetness from the honey and the bold flavors from the whiskey.
Hibiscus Tea: brew a cup of hibiscus tea and refrigerate until chilled. I used a loose-leaf, organic hibiscus tea that I found at my local supermarket but feel free to use your preferred brand of hibiscus tea for this cocktail.
Garnish: It's optional but highly encouraged to top this cocktail with a hibiscus flower and a thyme sprig for the ultimate sipping experience!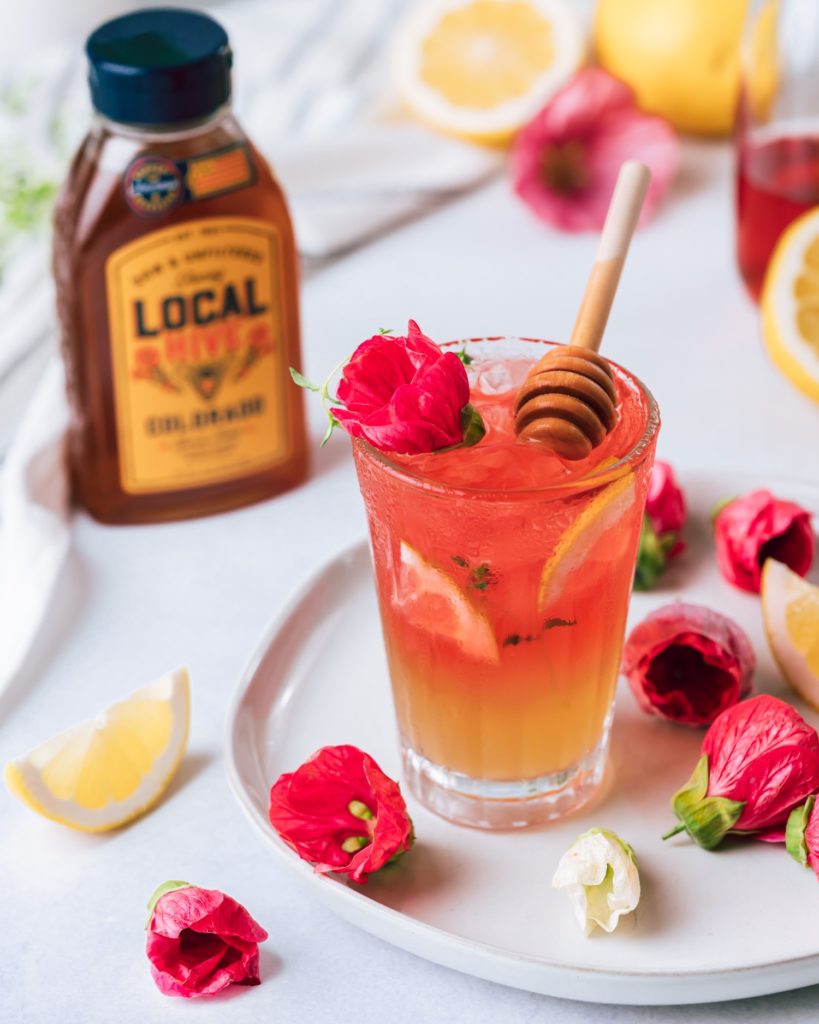 How To Make a Whiskey Hibiscus Cocktail
Once you've gathered your ingredients, it's time to make this refreshing libation! 
I recommend first brewing and steeping the hibiscus tea for a few minutes and then allowing about 20-30 minutes for the tea to fully cool in the refrigerator. Once your tea is cooling down, add Local Hive™ Colorado Honey and hot water to a cocktail shaker and whisk together until the honey is dissolved. This will create your lightly sweetened base for the cocktail.
Next, you'll add your preferred whiskey, lemon juice, and ice, then shake vigorously. Shake until the outside of your cocktail tin is cold and use the strainer to pour the mixture into a glass over fresh ice. 
The last step is to grab your chilled hibiscus tea from the refrigerator and top the cocktail with it. I like to give the mixed drink a little stir, so everything infuses together. Don't forget to garnish the Whiskey Hibiscus Cocktail with a hibiscus flower and thyme sprig!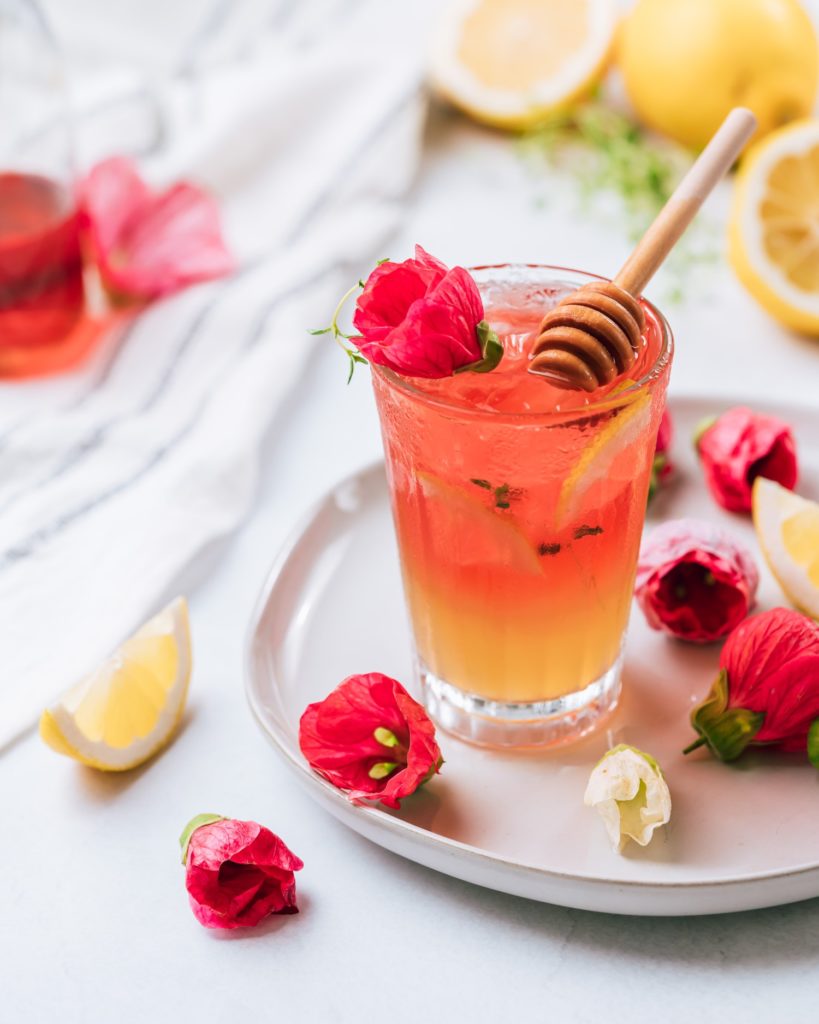 Tell Me More About Local Hive Honey™!
This cocktail recipe stands out for a few reasons but my favorite one is because of a particular ingredient. The honey used in this cocktail is Local Hive™ Colorado Honey and this varietal comes from the vast collection at Local Hive Honey™. I love the flavors in this particular varietal because it's unlike any honey I've had before. Smooth, earthy, and medium-bodied which enhance the flavor notes in the Whiskey Hibiscus Cocktail even more.
And there's no better time than now to order some honey and test out the Whiskey Hibiscus Cocktail because September is National Honey Month! So, celebrate accordingly with this specialty cocktail.
Local Hive Honey™ produces only the best raw and unfiltered products, meaning that their honey is filtered straight to the bottle, with no other processing or incorporating of questionable ingredients. Since honey has unique nuances based on the region it comes from, different varietals bring out different flavors in your recipe.  Local Hive Honey™ supports these unique varietals of honey from all over America by working with local beekeepers to help protect their ecosystems and produce their honey!
In addition to only working with local, American beekeepers, they're working and partnering with some of the most trusted experts in the industry to spread the word about honey. Check out Local Hive's blog to find out about some of their other initiatives in the beekeeping community!
& purchase your Local Hive Honey™ varietal online or in stores. To find the store nearest you, click here.
More Whiskey-Based Recipes
If you're interested in taking Insta-worthy photos of your cocktails too, check out my free training on how to take Food & Drink Photos on a Budget!
And if you aren't already, definitely follow me on Instagram and Facebook, to make sure you never miss a recipe, get tons of behind the scenes pics of everything I'm shaking up, shooting, and enjoying!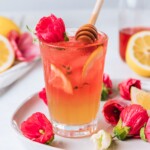 Print
Whiskey Hibiscus Cocktail
This Whiskey Hibiscus Cocktail is made with the freshest ingredients like Local Hive™ Colorado Honey, whiskey, lemon juice, and hibiscus tea for a refreshing mixed drink
Cocktail shaker

Cocktail glass

Strainer
½

tbsp

Local Hive™ Colorado Honey

½

tbsp

hot water

2

oz

whiskey

¾

oz

lemon juice

1

oz

hibiscus tea

chilled

Garnish: hibiscus flower, thyme sprig
Add Local Hive™ Colorado Honey and hot water to a cocktail shaker and whisk together until the honey is dissolved.

Add whiskey, lemon juice and ice and shake vigorously. Strain into a glass with fresh ice.

Top with hibiscus tea. Garnish with a hibiscus flower and thyme.