Shake up this exciting Pineapple Coconut Mockarita! All you have to do is combine a few fresh and fun ingredients and voila! You're sippin' on something super pretty, extra delicious, and non-alcoholic. Cheers, my friends!
Jump to Recipe
The Pineapple Coconut Mockarita
Time to get loco with the coconut! This non-alcoholic, pineapple-based mixed drink includes exactly what the name entails – sweet pineapple, hydrating coconut water, refreshing citrus notes, plus a few other fun ingredients. It's a tropical-tasting burst of flavors. Check out how I made this Pineapple Coconut Mockarita and grab your cocktail shaker because you're definitely going to want to try this refreshing pineapple mocktail.
What's a Mockarita?
Wondering what the heck a mockarita is? Let me tell ya! It's as if a mocktail and margarita were to have a baby. Although this recipe does not have any alcohol in it, it's still important to shake it up thoroughly. Plus, if you do want to make this pineapple mocktail into a cocktail, I recommend adding a little bit of Blanco Tequila or White Rum. Either way, it's going to be delicious.
Ingredients for the Pineapple Coconut Mockarita
Pineapple juice: I recommend using 100% pineapple juice for a perfectly sweetened taste. I used Dole Pineapple Juice that I picked up from my grocery store, but you can feel free to juice your own pineapple.
Canned coconut milk: create the creaminess in this cocktail with Canned Coconut Milk. Make sure to shake this up really well before using. 
Lime juice: squeeze in some fresh lime juice to this drink. I picked up some limes from Sprouts Supermarket. 
Coconut water: to balance all of these flavors, I added in some Vita Coco Coconut Water. I enjoy the Vita Coco brand but any coconut water will do. 
Sea salt: a pinch of fresh sea salt balances beautifully with the sweet and citrus flavors from this mocktail. I used Maldon Sea Salt Flakes
Toasted coconut: add texture to the drink by rimming it with crunchy, sweet coconut. I used shredded coconut found in the baking aisle at the grocery store. 
Corn syrup: to keep the toasted coconut sticking on, make sure to rim the glass with Karo Light Corn Syrup beforehand. You can also substitute it for honey for a little bit of a sweeter taste. 
Lime wheel, pineapple frond, pineapple slice: top this mocktail with a lime wheel, pineapple frond, and pineapple slice for a finished look!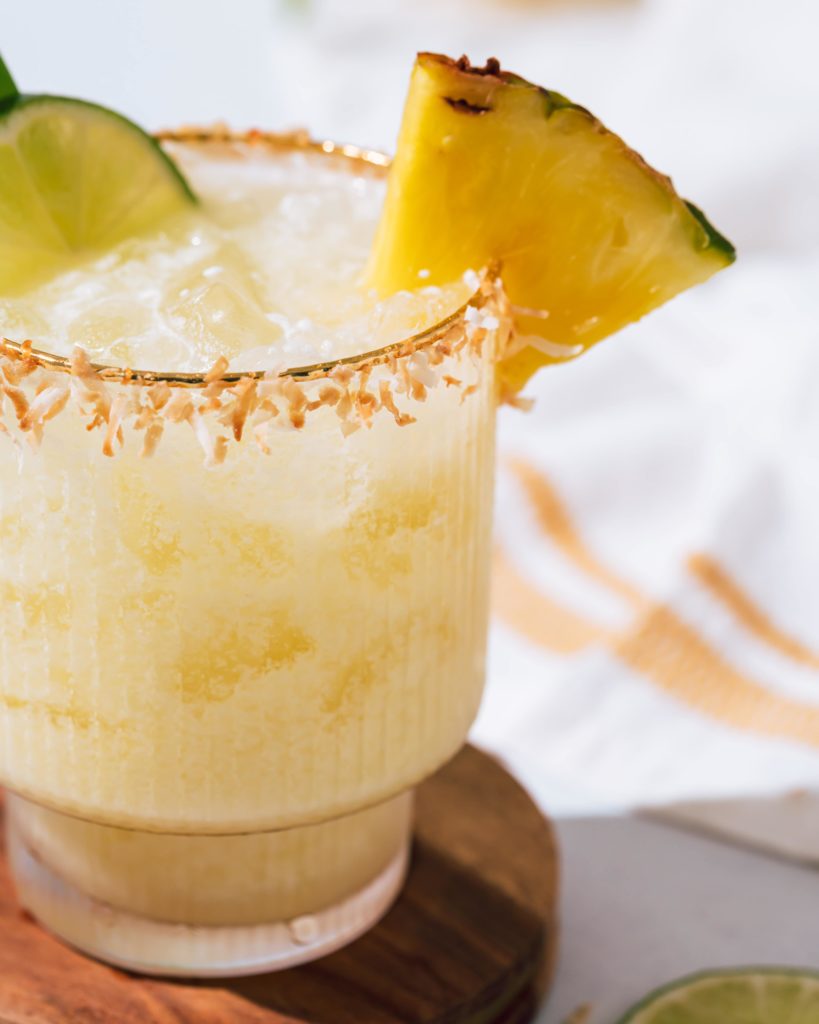 How to Make the Pineapple Coconut Mockarita
Time to shake your coconuts! Start by adding the pineapple juice, canned coconut milk, lime juice, coconut water, sea salt, and ice to a cocktail shaker. Shake until the outside of the shaker is chilled.
If you're toasting you're own coconut, set a small pan on low heat and add your sweet, shredded coconut. Use a spatula and consistently stir the coconut shreds until it's golden brown. Next, add the toasted coconut and corn syrup to 2 shallow dishes. Submerge the rim of a cocktail glass into the corn syrup. Immediately dip in the toasted coconut, until coated.
Fill the cocktail glass with ice. 
Lastly, strain the mocktail mixture into the glass. (I used this gold-rimmed glass) If desired, garnish with a pineapple frond, lime wheel, and pineapple slice. Enjoy! 
Notes:
Wanna make this mocktail into a cocktail? Add an ounce of Blanco Tequila or White Rum.
You can substitute corn syrup for honey syrup.
More Mocktail Recipes
If you're interested in taking Insta-worthy photos of your cocktails and making money too, check out my free training on 5 secrets to high-end food (& drink) photography that makes you more money!
And if you aren't already, definitely follow me on Instagram and Facebook, to make sure you never miss a recipe, get tons of behind-the-scenes pics of everything I'm shaking up, shooting, and enjoying!
Print
Pineapple Coconut Mockarita
This Pineapple Coconut Mockarita is made with pineapple juice, coconut milk, lime juice, coconut water, sea salt, and toasted coconut for a tropical-pineapple mocktail.
2 Shallow dishes

Citrus squeezer

Cocktail shaker

Cocktail glasses
Add coconut water, pineapple juice, juice from half a blood orange, cream of coconut, and ice to a cocktail shaker. Shake until the mocktail mixture is chilled and frothy.

Fill a glass with crushed ice. Strain mocktail mixture into the glass. Sprinkle with fresh ground nutmeg. If desired, garnish with a blood orange and pineapple slice, pineapple frond and edible flower.