This Mezcal Passion Fruit Cocktail is a smoky and tropical cocktail made with just 4 ingredients!
Jump to Recipe
 I partnered with BOMSHBEE to mix up this Mezcal Passion Fruit Cocktail. Recipe and ideas are my own.
Mezcal Passion Fruit Cocktail
Have you mixed with mezcal before? Mezcal is a distinctive spirit that carries a smoky scent and an even bolder taste. It brings earthy notes to your cocktail and can create a completely unique flavor in your mixed drinks. This cocktail balances out the beautiful smokiness with bright, fresh flavors for a perfectly balanced combination. Find out how I created the Mezcal Passion Fruit Cocktail with just a few ingredients in under 10 minutes.
What Should I Mix With Mezcal?
Typically mezcal is sipped slowly and by itself, but lately I've been loving mezcal cocktails paired with fruitier juices to create a beautiful balance of flavors for a delicious summertime sipper! Because mezcal has a bold, smokey flavor, it works well with other bold ingredients to create balance. I really like mezcal with sweet, tropical flavors like pineapple or passion fruit (like we use in this cocktail), tart flavors like lime or green apple or spicy flavors like jalapeno or ginger beer.
Ingredients for the Mezcal Passion Fruit Cocktail
This cocktail only uses 4 simple ingredients!
Mezcal: Any high quality mezcal will work for this recipe. I like Del Maguey Vida for cocktails. If you're new to smoky flavors, I recommend doing half tequila and half mezcal. If smoke isn't your thing, just use tequila!
Fresh Passion Fruit: This recipe uses fresh passion fruit with all the pulp and juices. If passion fruit isn't in season, replace it with passion fruit or pineapple juice.
Lime: As always, fresh squeezed limes are the best!
Agave: I like agave in this recipe but another sweetener like simple syrup could work as well!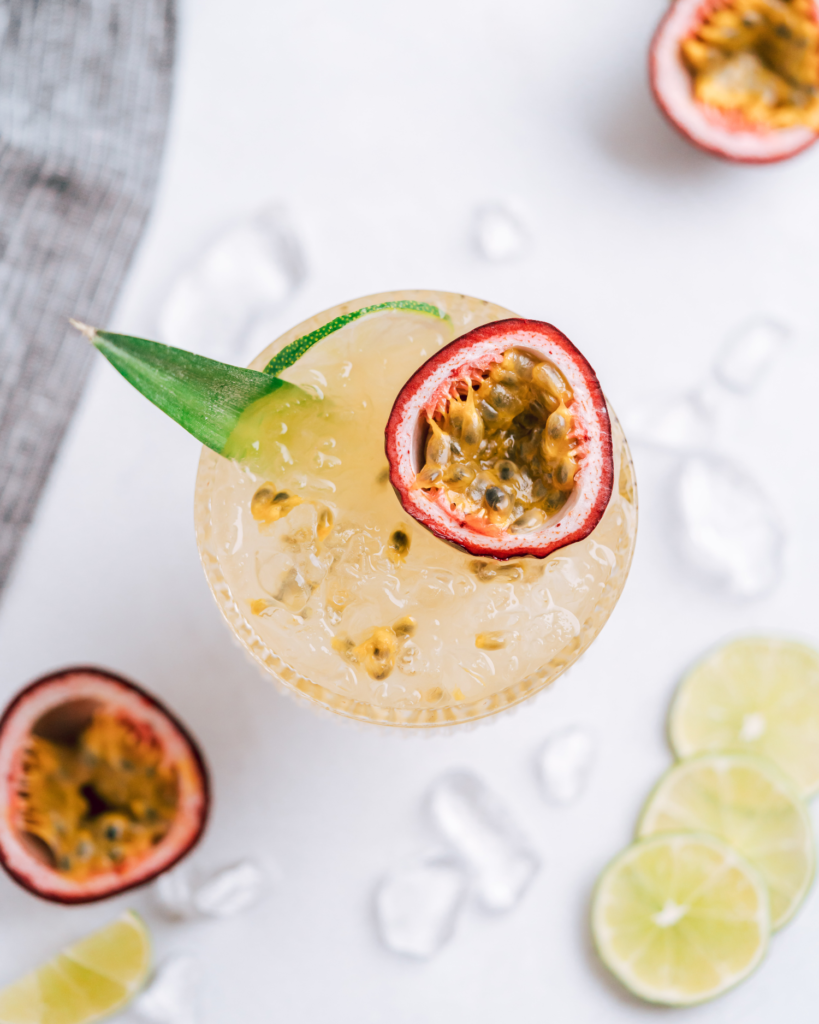 How to Make the Mezcal Passion Fruit Cocktail
Now, onto the recipe! Start by adding mezcal, lime juice, agave, and the pulp & juice from a passion fruit to a cocktail shaker with some ice. Shake this until the outside of your cocktail shaker is chilled. This allows for all the ingredients to infuse together creating a nice balance of sweet, smoky, and tart flavors.
Then, I prepared the beautiful Chandelier Skopeo from BOMSHBEE because what's better than serving a delicious cocktail in gorgeous glassware?! Not much, in my opinion! I strained the mixture from the cocktail shaker over fresh ice and garnished it with a lime wheel, pineapple frond, and half of a passion fruit! P.S. feel free to get creative with your garnish because beautiful glassware deserves a gorgeous garnish too!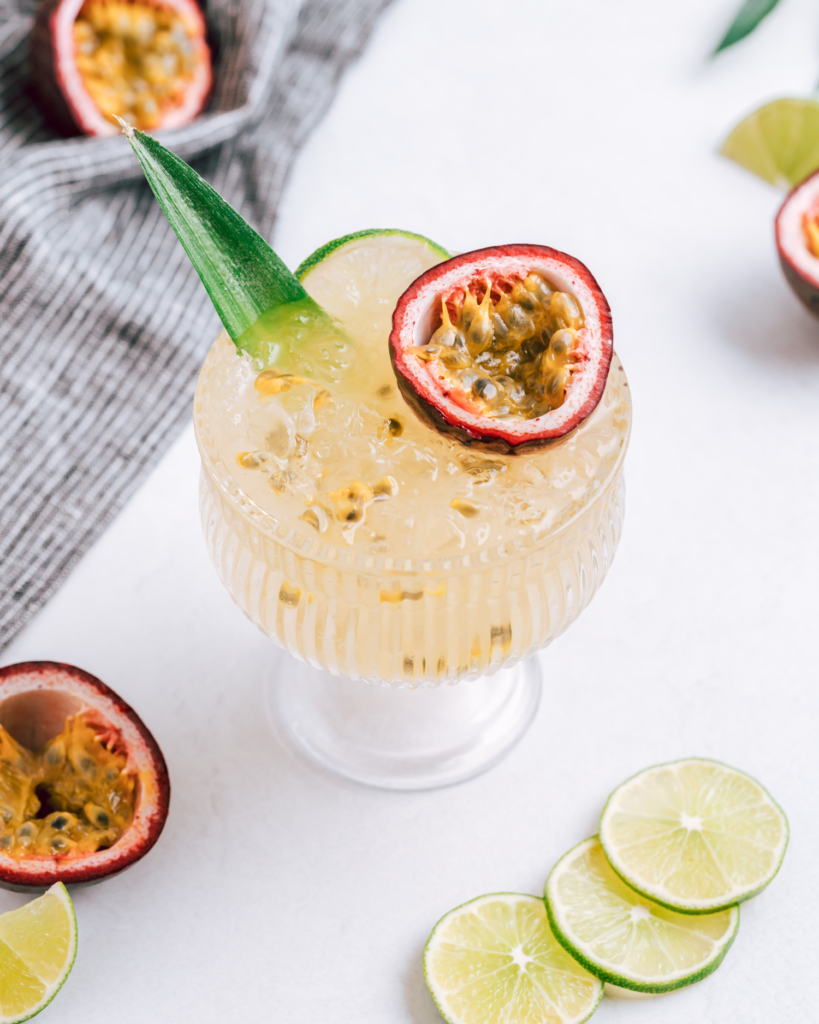 Tools for This Cocktail
For this cocktail, you need the following tools:
Cocktail shaker
Strainer
Jigger or measuring cup
Cocktail glass
I'm so excited to showcase BOMSHBEE's ornate glasses because this brand provides contemporary and modern glassware, tableware, and decor for any occasion and their sophisticated glassware makes my springtime cocktails look incredible! I've even added a few of their glasses to my bar cart for an extra modern and amplified look.  
Plus, I LOVE how versatile their glassware is, for example you can use the Chandelier Skopeo for cocktails, whiskey, brandy, snacks, ice cream, and for dipping sauce! The Chandelier Skopeo is one out of three glasses in their Chandelier Glass collection (check out the others here and here). This glass just feels and looks so luxurious with pressed glass that's a little more weighted. The best part? This lavish glass is dishwasher safe!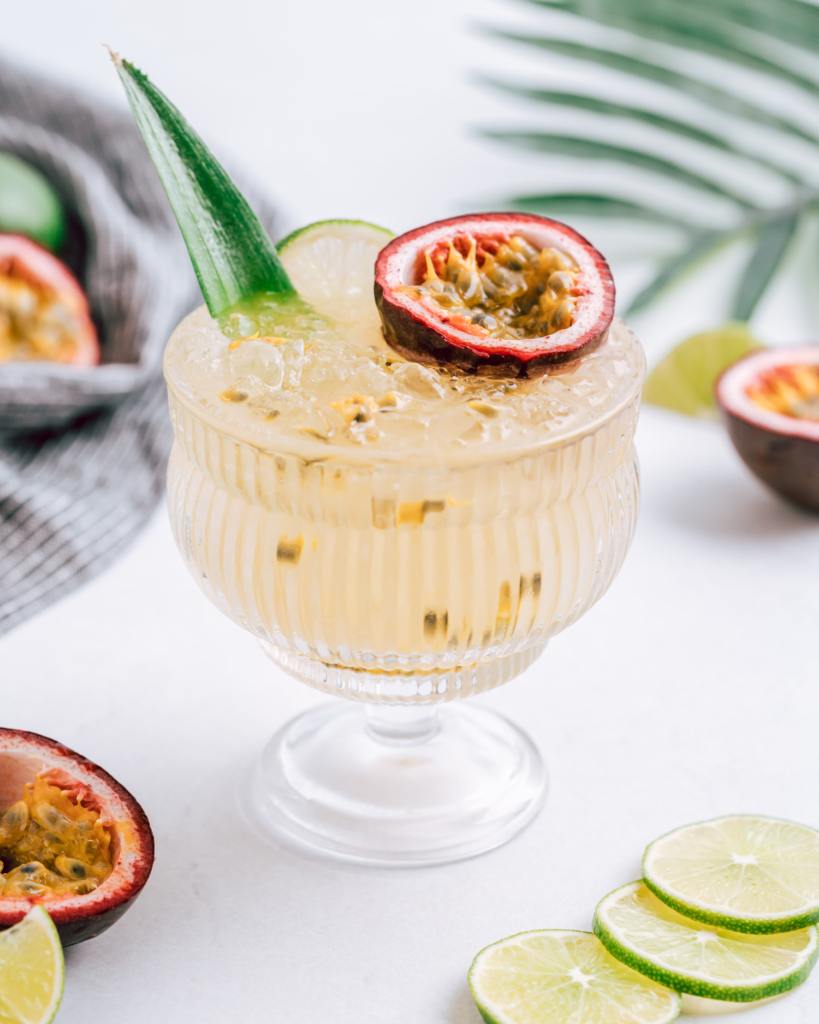 The Chandelier Skopeo really brings the Mezcal Passion Fruit Cocktail together with such an elegant look. This glass is one of my personal favorites but if you peruse BOMSHBEE's website, you'll find a plethora of gorgeous glasses or trendy tableware for any occasion! Check out their products here for your next dinner party and don't forget to make the Mezcal Passion Fruit Cocktail to accompany it!
If you're in the mood to make another mezcal cocktail, try the Kiwi Be Friends? Cheers!
If you're interested in taking Insta-worthy photos of your food and cocktails and making money too, check out our free photography training – 5 Secrets to High-End Food (& Drink) Photography That Makes You More Money!
And if you aren't already, definitely follow me on Instagram and Facebook, to make sure you never miss a recipe, get tons of behind the scenes pics of everything I'm shaking up, shooting, and enjoying!
Print
Mezcal Passion Fruit Cocktail
The Mezcal Passion Fruit Cocktail made with mezcal, fresh passion fruit, lime juice and agave is a perfect smoky tropical cocktail.
Cocktail shaker

Strainer

Glass
2

oz

mezcal

(or 1 oz mezcal and 1 oz tequila)

Juice and pulp from 1 large passion fruit

1

oz

fresh lime juice

½

oz

agave

Garnish: lime wheel, passion fruit and pineapple frond
Add mezcal, passion fruit, lime juice and agave to a cocktail shaker with ice and shake until chilled.

Strain into a cocktail glass over crushed ice.

Garnish with a lime wheel, passion fruit and a pineapple frond.