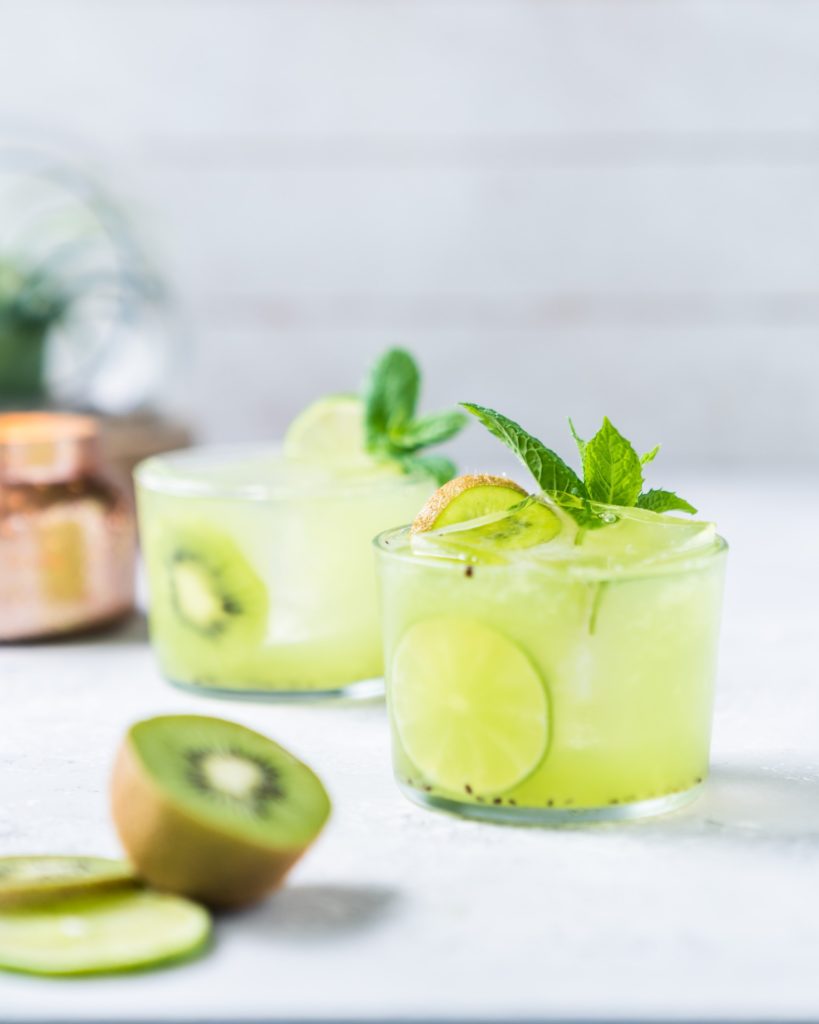 There's nothing like a couple perfectly balanced, tropical fruit and mezcal cocktails to transport you, even if momentarily, into the vacation mindset. And what's a good vacation without your best bud by your side? I created this "Kiwi Be Friends?" cocktail because I love a good pun…but what I love even more is the balance of flavors in this simple, but tasty drink, and enjoying it with friends!
This cocktail starts off with a refreshing muddle of kiwi. After that, all you have to do is add in your mezcal, a little elderflower liqueur (I love Fiorente!), and some lime juice, shake it all up, and strain it into your favorite glass. I like to garnish with fresh mint and some extra kiwi and lime slices, but feel free to make it as pretty (or not!) as you want.
This was the perfect drink to enjoy with Travis after a long week of shoots and travel days. I can now tell you from experience that mezcal really is the cure for a long week! But on the off chance you're not a fan of mezcal cocktails, feel free to replace some of the mezcal with tequila and it will still be delicious.
And if you aren't already, definitely follow me on Instagram and Facebook, to make sure you never miss a recipe, get tons of behind the scenes pics of everything I'm shaking up, shooting and enjoying!
---
Mezcal Cocktails: "Kiwi Be Friends?"
Mezcal Cocktails: "Kiwi Be Friends?"
Half of a kiwi, peeled

1 ½

oz

lime juice

3

oz

mezcal (or a combo of mezcal + tequila)

1

oz

elderflower liqueur

Lime slices (for garnish)

Kiwi slices (for garnish)

Sprigs of fresh mint (for garnish)
Add kiwi and lime juice to a mixing tin and gently muddle. Add mezcal, elderflower liqueur and ice to the tin and shake vigorously until the outside of the tin is chilled. Prepare 2 glasses with fresh ice. Strain mixture into prepared glasses. Garnish each with a lime slice, kiwi slice and sprig of mint.