This Spicy Cucumber Michelada recipe post was made in partnership with Cocktail Artist. Recipe and ideas are my own.
Football is a huuuuge deal in my house. Nearly every Sunday during football season you can find us flipping between all the games on television surrounded by snacks and a Bloody Mary or two. Naturally, I'm in charge of the cocktails, and last week I decided to mix it up and make Micheladas. But I didn't make just a regular Michelada, I made a spicy cucumber Michelada.
The star of this spicy cucumber Michelada is Cocktail Artist's Bloody Mary mix. I typically make my own mixers, but Cocktail Artist does such a great job with this product. It uses a proprietary spice blend and has hints of Worcestershire and cayenne pepper. And, coincidentally, it tastes amazing with the Mexican-style lager a Michelada needs!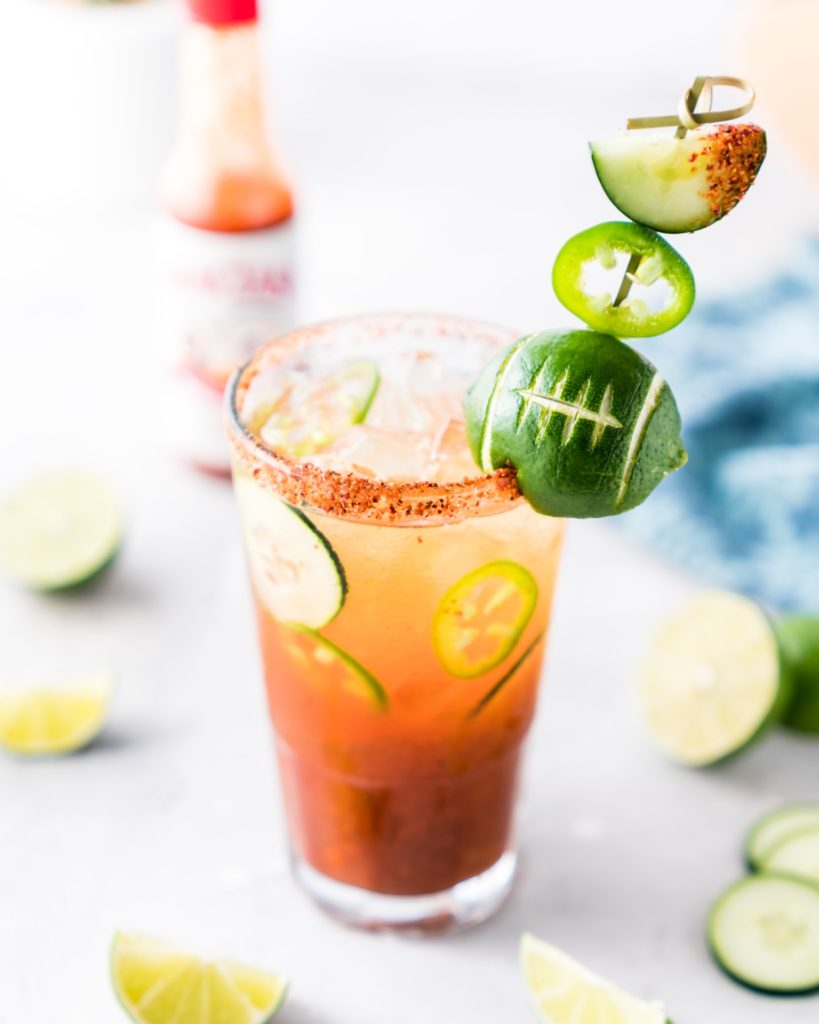 I made my version with Pacifico Beer, but feel free to use whatever Mexican-style lager you'd like! And feel free to have fun with the garnishes on this one. See below for a super easy and fun way to turn a lime into a football!
And if you aren't already, definitely follow me on Instagram and Facebook, to make sure you never miss a recipe, get tons of behind the scenes pics of everything I'm shaking up, shooting and enjoying!
---
Spicy Cucumber Michelada
Spicy Cucumber Michelada
Prepare your glass with a Tajin rim by coating it with lime juice and dipping in a shallow bowl of Tajin. Add cucumber, jalapeño and hot sauce to your glass and gently muddle. Fill your glass with ice. Add Cocktail Artist Premium Bloody Mary Mix. Fill the glass with beer and stir.⠀

For the football lime garnish, cut your lime in half lengthwise. Use a sharp paring knife to gently score the outlines of the lines and remove the skin.