Learn how to make the seasonal Persimmon & Citrus Old Fashioned, in collaboration with Lulus!
This Persimmon & Citrus Old Fashioned recipe post was made in partnership with Lulus. Recipe and ideas are my own.
Have you tried a persimmon? If not, don't miss your opportunity! With persimmons finally in season, make the Persimmon & Citrus Old Fashioned which combines seasonal flavors with the warming whiskey spirit for an autumnal twist on the classic old fashioned. You'll want to try this!
You may be wondering, "what is a persimmon?" These fruits are in season in late October and when they hit the grocery store, I have to stock up on them. Persimmons are unique in the sense that they don't really taste like any other fruit and if bitten into when they are not ripe enough, have a bitter and very unpleasant taste. But when a persimmon is ripe, it has a really sweet and rich taste with a silky smooth texture in the center.
This is the ideal look and feel you should go for when using persimmons in any recipe. They can look similar to a stout, orange tomato and can be enjoyed with the skin on and sliced up. For this cocktail recipe, I chose to just use the juice from the persimmon to highlight the other ingredients as well.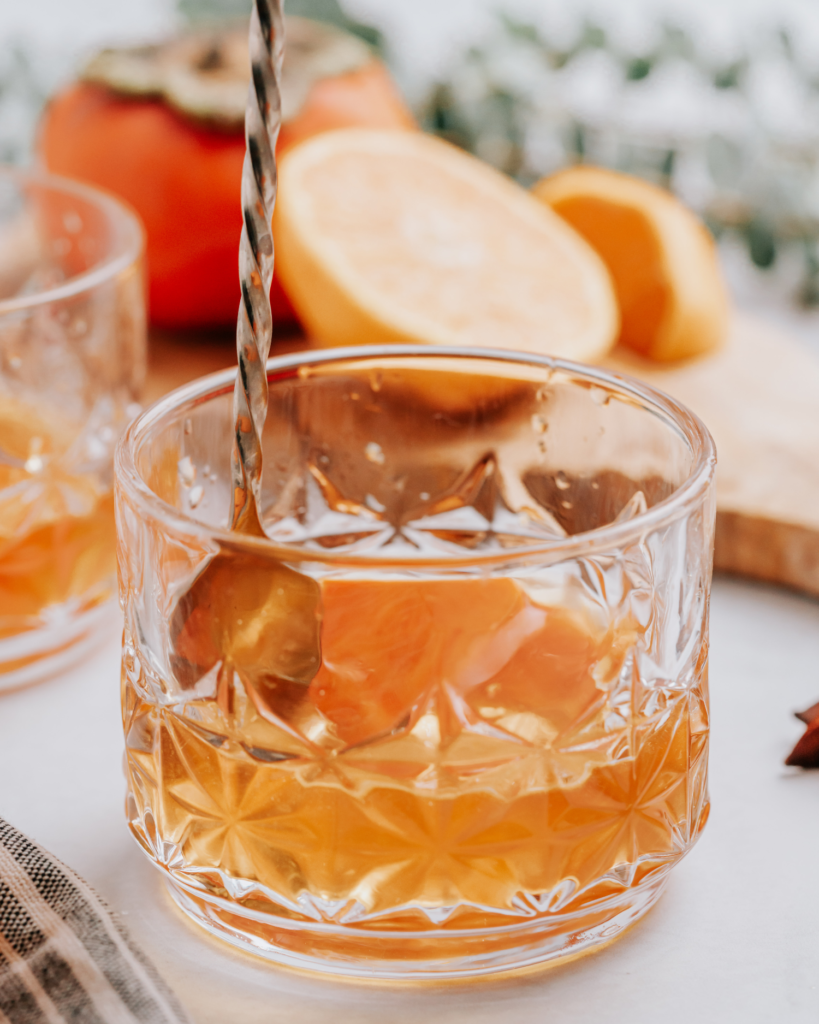 Once you acquire that perfectly ripe persimmon the best thing to do is make a cocktail with it and because the persimmon has a smooth taste with a bit of sweetness, it pairs really well with liquors like whiskey. For the Persimmon & Citrus Old Fashioned, muddle fresh persimmon and tangerine juice with maple syrup and a few dashes of citrus bitters. Stir until the syrup is dissolved. Add rye or your whiskey of choice and a large ice cube and give another quick stir. Top with a cinnamon stick or star anise for a spiced aroma as you sip!
I love enjoying the Persimmon & Citrus Old Fashioned when the temperatures outside have dropped or after a long day. Warm up with this specialty cocktail this season, perfect for any holiday gathering!
And if you aren't already, definitely follow me on Instagram and Facebook, to make sure you never miss a recipe, get tons of behind the scenes pics of everything I'm shaking up, shooting, and enjoying!