Sip on something fun and refreshing for the springtime! The Jungle Bird is a unique rum-based cocktail that transports you somewhere tropical. P.S. I'll show you exactly how I shot this delicious libation, so you can recreate it!
Jump to Recipe
The Jungle Bird
The Jungle Bird is one of my favorite rum-based cocktails. It's slightly sweet with bright citrus notes, so you feel like you're somewhere warm and tropical when you're drinking it. It's made with 5 ingredients including rum, Campari, lime juice, pineapple juice, and simple syrup. This mixed drink is just as easy to make as it is to enjoy.
Travis and I will be heading out of the country to Portugal for a few weeks and what better way to get in the vacation spirit than with the Jungle Bird cocktail?! It incorporates all the elements that remind me of being somewhere new and exciting.
P.S. Keep reading to see how we created these fun photos with the palm frond shadow!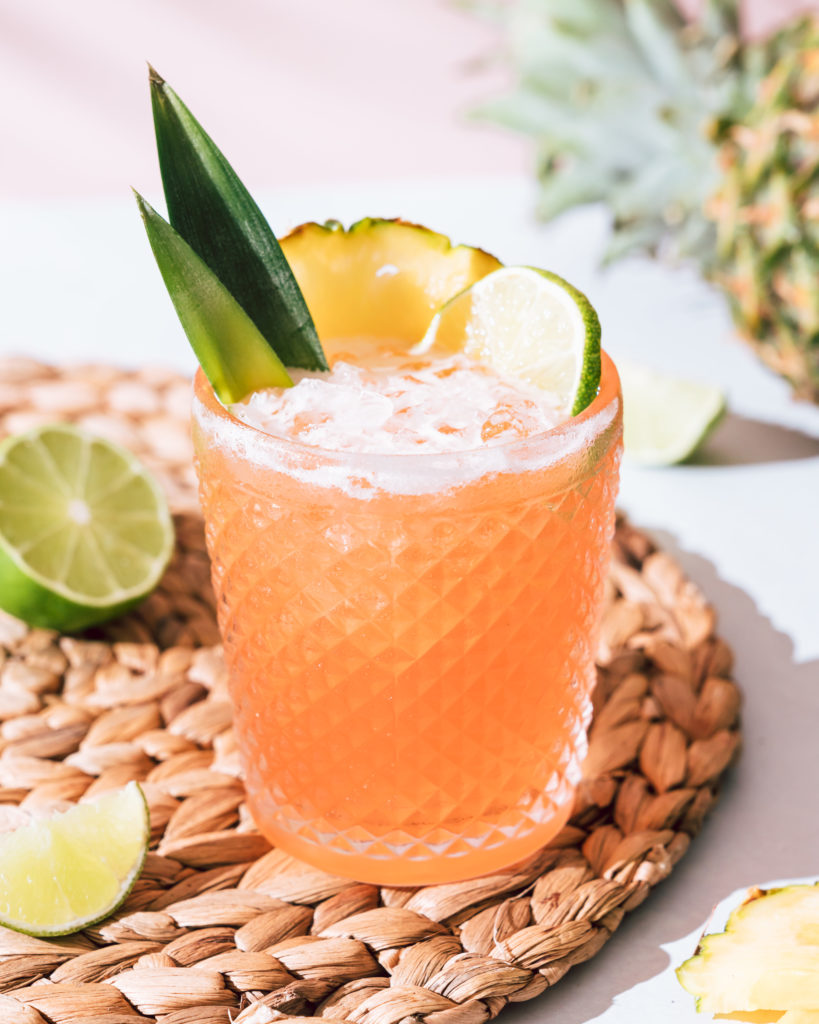 Ingredients for the Jungle Bird
You only need 5  ingredients to craft up this cocktail, see what I used: 
Dark rum: I used dark rum for this recipe because it mixes well with the fresh lime juice and pineapple juice. A traditional Jungle Bird calls for dark rum, so click here for a few suggestions and brands to peruse. 
Aperol or Campari: add a liqueur for some depth and to balance with the sweetness from the pineapple juice. You can opt to use either Campari or Aperol, but I prefer to use mine with Campari as it's a little bit more bitter. 
Pineapple juice: a splash of sweet pineapple juice will balance beautifully with the dark rum and liqueur. Feel free to juice your own pineapple yourself if you want the freshly-squeezed taste or I recommend just using Dole Pineapple Juice.
Lime juice: a squeeze of fresh lime juice gives you the citrus notes you need for a delicious Jungle Bird.
Simple syrup: give this cocktail a hint of sweetness by incorporating simple sugar. You can sub this for a honey syrup or agave, but I recommend the simple syrup for something neutral. 
Garnish: top this mixed drink with a pineapple slice, pineapple frond, and lime slices for a completed cocktail with a tropical feel.
How to Make the Jungle Bird
The Jungle Bird is as simple as it gets. Grab your cocktail shaker and preferred cocktail glass and shake up this refreshing libation. 
Start by adding all of the cocktail ingredients – rum, your liqueur of choice, pineapple juice, lime juice to a cocktail shaker with ice and shake vigorously, until the outside of the shaker is chilled.
Next, strain the mixture into a cocktail glass over fresh ice. Garnish with a pineapple slice, pineapple fronds, and lime slice, if desired but highly recommended! Enjoy.
How To Recreate This Shot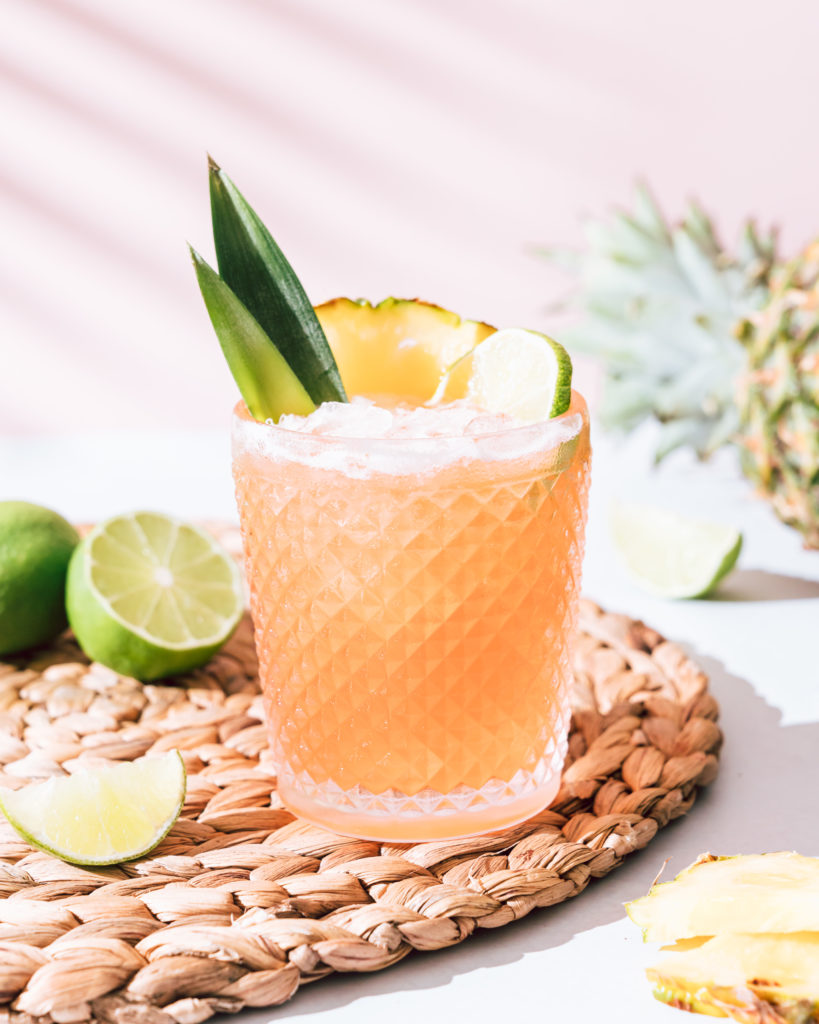 One of our fav ways to add vacation vibes to our shots is experimenting with light, shadows, and props. We shot this Jungle Bird cocktail using a palm leaf shadow to create hard shadows. So, I wanted to share how we did it!
1️⃣  Set up hard lighting: We used one artificial light with no attachments or diffusion to get crisp defined shadows.
2️⃣  Position the light: The height and position of your light are what control your shadows. So we went high and to the side so the palm shadow would come down into the scene.
3️⃣  Position your prop: We played around with the palm leave until we got a shot we loved. 
Check out the behind-the-scenes video!
More Rum-Based Recipes to Try
If you're interested in taking Insta-worthy photos of your cocktails too, check out my free training on how to take Food & Drink Photos on a Budget!
And if you aren't already, definitely follow me on Instagram and Facebook, to make sure you never miss a recipe, get tons of behind-the-scenes pics of everything I'm shaking up, shooting, and enjoying!
Print
Jungle Bird
The Jungle Bird is a refreshing libation made with 5 ingredients including dark rum, Campari, pineapple juice, lime juice, and simple syrup for a fun and exciting cocktail to sip on.
Cocktail glass

Cocktail shaker

Cocktail strainer
Add all cocktail ingredients to a cocktail shaker with ice and shake vigorously, until chilled.

Strain into a cocktail glass over fresh ice. Garnish with a pineapple slice, pineapple fronds and lime slice.