This Hibiscus Gin Sour with Campari Foam recipe post was made in partnership with JoyJolt. Recipe and ideas are my own.
While I love creating cocktails, my favorite part of any shoot just might be shopping for cute drinkware to go with each recipe. Let me tell you, I've scoured the aisles at nearly every Home Goods and Target multiple times trying to find the perfect vessel for every drink I make. The fact is, there isn't a ton of deviation in style when it comes to glasses, and a lot of them are just very plain and simple. Well, that is before I discovered JoyJolt.
JoyJolt makes some of the finest drinkware out there, and it all has a lot of personality. They were kind enough to send me this tall, beautiful glass and I knew I had to make something pretty to put in it! I love the color details on the stem and the overall shape is so appealing!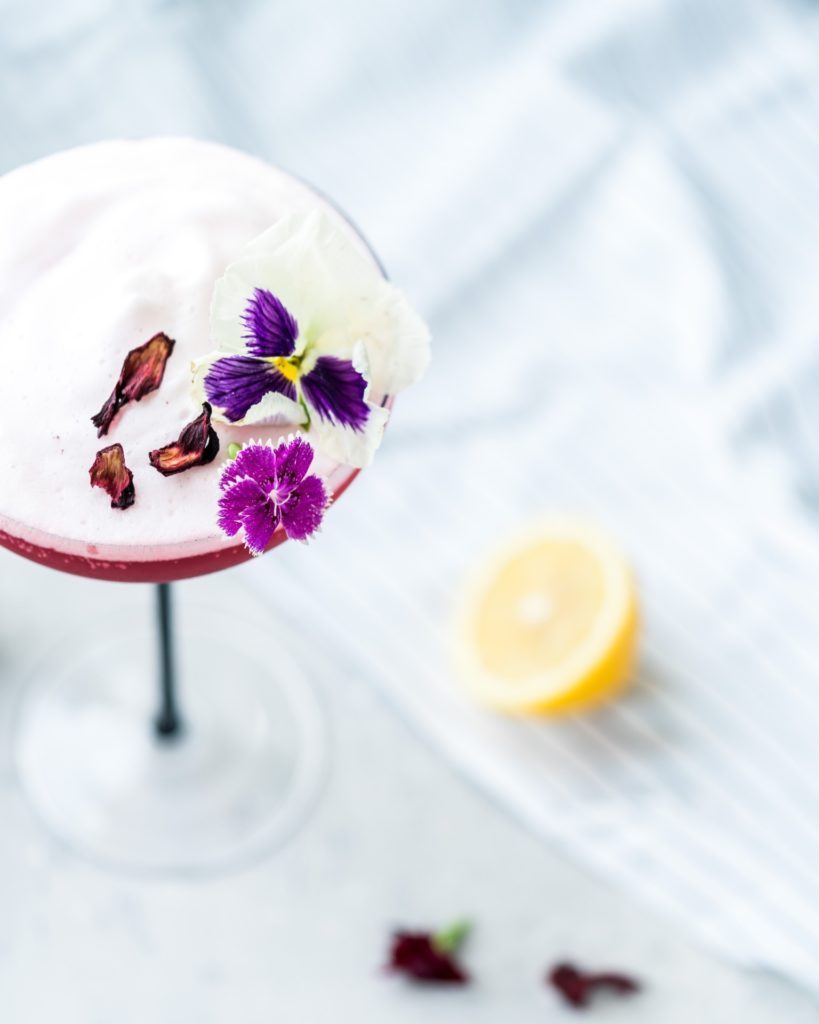 To match the style of the glass, I decided to create this Hibiscus Gin Sour – a drink with a bold color topped with a luscious, egg white-based Campari foam. I then garnished it with some gorgeous edible flowers, because why not? I've always found flowers are better than a cherry on top. Hope you love the recipe!
And if you aren't already, definitely follow me on Instagram and Facebook, to make sure you never miss a recipe, get tons of behind the scenes pics of everything I'm shaking up, shooting and enjoying!
---
Hibiscus Gin Sour with Campari Foam
Hibiscus Gin Sour with Campari Foam
Combine all cocktail ingredients in a cocktail tin with ice. Shake vigorously and strain into a coupe. Top with Campari foam and garnish with dried hibiscus and edible flowers.⠀
Campari Foam
To make the foam, combine egg white and Campari in a cocktail shaker and dry shake for 30 seconds until the egg whites are foamy.