Time to mix up something super refreshing for your Memorial Day Weekend celebration. The Cucumber Tequila Cocktail is the perfect batch cocktail, crafted tequila, cucumber, basil, and lime. Cheers!
I partnered with Exotico Tequila to make the Cucumber Tequila Cocktail! Recipe and ideas are my own.
Jump to Recipe
The Cucumber Tequila Cocktail
What better way to get your veggies in than with the Cucumber Tequila Cocktail?! This recipe is SO refreshing and easy to make for a crowd. It's made with only a few ingredients – cucumber, basil, limeade, sparkling water, and one of my favorite tequilas, Exotico Tequila! 
Grab your cocktail glasses and enjoy this cooling, thirst-quenching, and effervescent cocktail for your Memorial Day festivities or next summer barbeque. It's the perfect libation for the hot temperatures ahead! 
P.S. This recipe is for a big batch cocktail, so keep reading to find out what I used and how to make this for you and your crew. 
What Tequila Should I Use?
To make a cocktail that everyone will love, start by using a premium tequila. Exotico Tequila is an award-winning spirit crafted from the region of Jalisco, Mexico by a family distillery spanning four generations, and is known as one of Mexico's most respected makers of tequila. Created with skill, dedication, and tradition, this handcrafted tequila is carefully cultivated to showcase its unique flavor notes. For more details on the process of how Exotico Tequila is crafted, click here!
To the taste, this clear, crisp, and herbal tequila includes spicy undertones and a robust taste of fresh agave with hints of pepper. Finishing with a fresh wave of heat followed by a balanced spice. This spirit is 40% ABV or 80 proof. Sip Exotico Blanco Tequila solo or add it in margaritas, palomas, or the Cucumber Tequila Cocktail to elevate your mixed drink! 
Pick up your bottle of Exotico Tequila Blanco here!
Ingredients for the Cucumber Tequila Cocktail
The Cucumber Tequila Cocktail is made with 6 ingredients. For an oh-so refreshing mixed drink to enjoy for the Memorial Day festivities, grab these ingredients and give it a try! 
Exotico Blanco Tequila: This premium, unaged 100% agave tequila includes herbal notes with spicy undertones and a robust taste of fresh agave with hints of pepper. Perfect for sipping solo or adding it to your mixed drink to elevate it!
Cucumber: Fresh sliced cucumber really freshens up this drink. You could also substitute it for cucumber juice.
Lime: Slice a lime to add tartness and make your batch even prettier. A lemon would work too.
Basil: Fresh basil adds a fun herbal element to the cocktail. If you don't have basil, mint is the perfect substitute. 
Frozen Limeade Concentrate: This recipe uses limeade concentrate that you can find in a can in the freezer aisle of your grocery store. Hawaii's Own is my favorite brand.
Sparkling water: Finish this cocktail with an original flavored sparkling water or club soda. I used Topo Chico.
How to Make the Big Batch Cucumber Tequila Cocktail
Entertaining for a group this holiday? This is the perfect batch cocktail recipe. See how I created the Cucumber Tequila Cocktail in a few, easy steps. 
You'll want to start with a large pitcher or drink dispenser. First, add lime slices, cucumber slices, and basil leaves and gently muddle them with a wooden spoon. Gently muddling these ingredients release their juices and oils and helps infuse the liquid with their flavors.
Next, add a bottle of Exotico Blanco Tequila, the frozen limeade, and sparkling water. Give it a good stir and place it in the refrigerator before serving.  
Lastly, add ice to your cocktail glasses and give the pitcher another good stir before serving. Pour the mixture into the glasses and top each cocktail with an edible flower. Pro-tip: if you really wanna elevate your drink, rim the glass with a blend of sea salt and tajin. It will balance beautifully with the refreshing cucumber and limeade. Enjoy!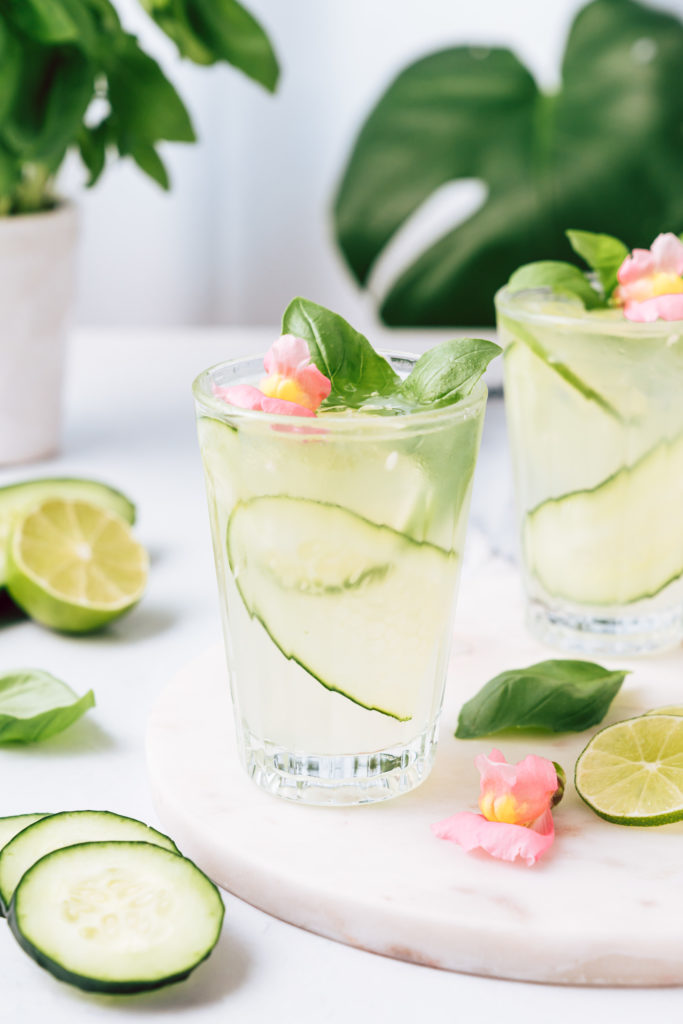 More Tequila-Based Cocktails to Enjoy!
If you're interested in taking Insta-worthy photos of your cocktails too, check out my free training on how to take Food & Drink Photos on a Budget!
And if you aren't already, definitely follow me on Instagram and Facebook, to make sure you never miss a recipe, get tons of behind-the-scenes pics of everything I'm shaking up, shooting, and enjoying!
Print
Big Batch Cucumber Tequila Cocktail
This Big Batch Cucumber Tequila Cocktail is made with Exotico Blanco Tequila, cucumber, lime, basil, limeade, and sparkling water for a fun and fresh libation.
Pitcher

Wooden spoon

Cocktail glasses
1

750-ml

bottle of Exotico Blanco Tequila

Half a cucumber,

sliced

1

lime,

sliced

10

basil leaves,

plus more for serving

1

12-oz

can frozen limeade concentrate

1

1.25 L

bottle sparkling water

Edible flowers,

for serving
Add cucumber slices, lime slices and basil leaves to a pitcher and gently muddle with the bottom of a wooden spoon.

Add Exotico Blanco Tequila, frozen limeade, sparkling water and ice. Stir to combine.

Divide into glasses. If desired, serve with basil sprigs and edible flowers.